Dehradun: Durung-Drung and Pensilungpa, there are two glaciers Ladakhhave retreated by 7.8 sq km and 1.5 sq km from 1971 to 2019 respectively. Concerned scientists blame climate change and many other factors for the melting of glaciers that feed Zanskar River through two tributaries.
Scientists are also surprised that despite being at an aerial distance of only 1 km, the glaciers are retreating at different speeds. findings written by scientists from Wadia Institute Manish Metha of Himalayan Geology (WIHG), Vineet Kumar, Pankaj Kumar and Kalachand Sen was recently published in the international, peer-reviewed journal 'Sustainability'.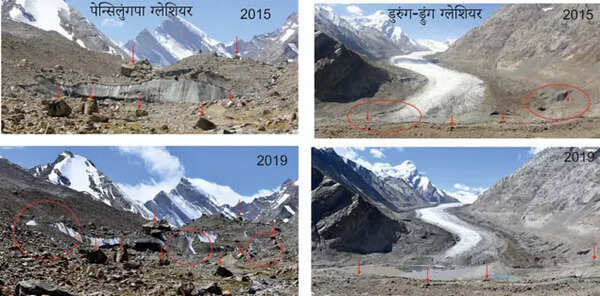 The glaciers are located at the Pensi-la pass in Ladakh at an altitude of 14,612 feet. DDG Glacier is spread over 72 sq km. It has lost 7.8 km² of ice, which is 10% of its total surface area. PG, a small glacier covering 16 km², has lost 1.5 km², which is 8% of its total area. According to the study, from 1971 to 2019, the DDG retreated by 13 meters per year and the PG by 5.6 meters per year.
Manish Metha, lead author of the study, said, "Glacier retreat is influenced not only by climate change but also by the 'topographic setting and morphology' of the glaciers. Two glaciers located in the same geography and facing similar climatic conditions has been, yet receding in a different way, indicates that there are many other factors at play. Studies on snout geometry, glacier size, elevation range, slope, aspect, debris cover as well as the presence of supra- and proglacial lakes Affecting the anomalous response of glaciers made."
The study noted that climate change was a significant force in the retreat of the glaciers. The melting of both glaciers has environmentalists worried, despite the glimmer of hope from one glacier that is slowing retreat. Two glaciers contribute significantly to the flow of the Zanskar River. while the roots of DDG are DodaThe largest tributary of Zanskar is the origin of the PG Suru river.
The study comes barely a week after climate activist, engineer and innovator Sonam Wangchuk conducted a five-day "climate fast" in the harsh and uncertain temperatures of Ladakh from January 26.
In a video posted on YouTube, Wangchuk said "all is not well" (a reference to the Bollywood film '3 Idiots', inspired by his life) in Ladakh. He said tourism and commercial activities in Ladakh have caused two-thirds of the glaciers in the union territory to melt, depleting water resources, and urged Prime Minister Narendra Modi to protect the fragile region.