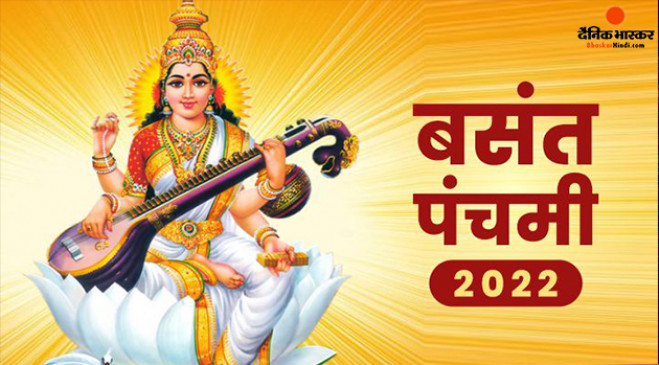 Digital Desk, New Delhi. The festival of Basant Panchami is celebrated on the fifth day of Shukla Paksha of Magh month. This year this festival is being celebrated on 05 February, Saturday. Mother Saraswati is specially worshiped on the day of Basant Panchami. Goddess Saraswati is considered the goddess of learning and wisdom. On the day of Basant Panchami, boons of learning, intelligence, art and knowledge are obtained from him. It is believed that Mother Saraswati was born on this day.
There is an auspicious time on the day of Basant Panchami. In which auspicious works like marriage, engagement and construction are done without auspicious time. On this day people wear yellow colored clothes, fly kites and consume yellow colored rice. Yellow color is considered a symbol of spring. Let us know about the auspicious time and method of worship.
February 2022: date date date date, date date has been released
24 hour Panchami date
Friday Night Starts: 3:46 Router
End date: Saturday after 3.46 am
auspicious time
This particular type of person is special… According to astrology, Siddha and Saadhya, Budhditya of Sun, Mercury, and the position of all seven planets are the sum of Yoga. Triveni Yoga is being made on this day.
Siddha Yoga: February 4 at 7.10 am to 5.40 pm on February 5
Sa Yoga: From 5:41 to 5:41 on the previous day from 6:00 to 4:52
worship method
– Wake up before sunrise on this day and retire from bath and water.
– Wear yellow or white clothes and offer water to Lord Surya.
Now clean the temple of the house and take measures of Ganga water. Install the idol or picture of Maa Saraswati in the north-east direction.
Offer white sandalwood, yellow and white flowers to Maa Saraswati.
– Om Aim Saraswatyai Namah: Chant the mantra 108 times.
– Do the aari of Maa Saraswati, offering of milk, curd, basil, milk Panchamrit to the mother of Bhogi Devi.
Gupta Navratri 2022: God should do these forms including Tara Devi, know the method of worship
Mantra of Goddess Saraswati:
Verse – Om Shri Saraswati Shuklanam Sasmita Sumnoharam.
Kotichandraprabhamushtpushtashreeyuktavigraham.
Vahnisuddha Shukadhaanam Veena Bukamadharinim.
RatnasarendraNirmannavbhushanbhushitam.
Supujita Surganaibrahma Vishnusivadibhi:.. Vande Bhaktaya Vandita Ch.