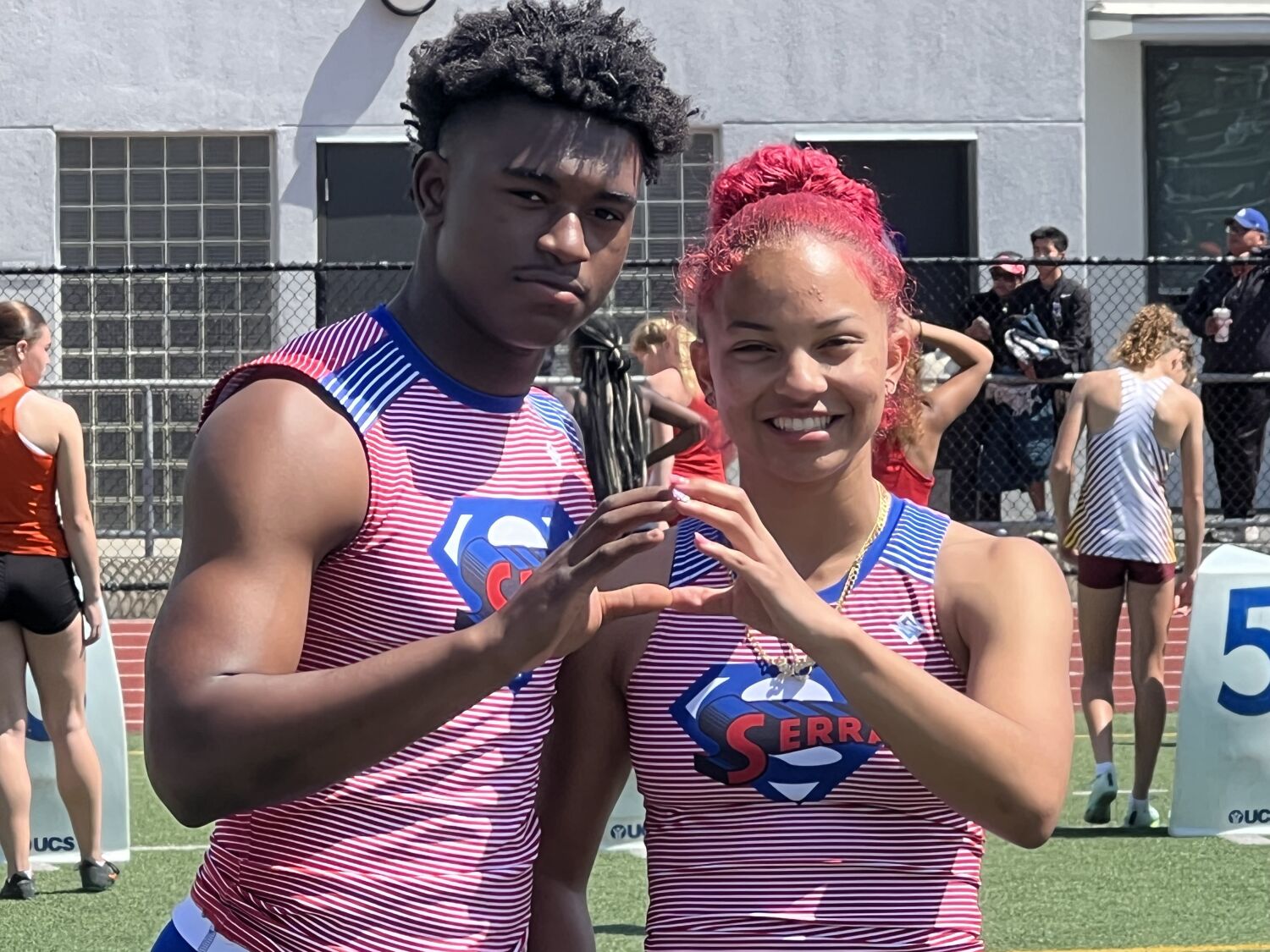 The final high school track and field season has begun for Roderick Pleasant, the California state 100m record holder from Gardena Serra. Whenever he steps across the starting blocks this spring, people will be paying attention.
He made an appearance Saturday at the Pasadena Games in South Pasadena, running the anchor leg for Serra's 400-meter relay team, then cruised to a winning time of 21.88 seconds in his first outdoor 200. He and his classmate, Brazil Neil, were both on defense. The state champion in the 200 and leads each Oregon took a moment to pause and show an "O" sign before winning his race. Neil took 200 in 25.31.
Right now it's all about getting in shape for the big race ahead. Pleasant will run his first 100 of the year next Saturday at Trabuco Hills. He then intends to prepare to give it his all at the Arcadia Invitational on April 8 at Arcadia High. He has never won a 100 at Arcadia.
Asked how badly he wanted to win, Sukhad said, "Badly."
There were other good performances. Santa Margarita's Roman Mendoza ran the fastest 300 hurdles in the state this season, finishing in 37.91 despite nearly falling.
"I thought I was done," said Mendoza, who also had the fastest 110 high hurdles time of 14.70 on Saturday.
South Pasadena junior Mia Holden won the girls 300 hurdles in 44.18 on Friday, completing the 100 in 12.25 and also won the triple jump.
At the Simi Valley Invitational, Dijon Stanley of Granada Hills looked to give Pleasant some competition in the 200 if it wanted to. Stanley, the defending city champion in the 400, won the 200 in a meet-record time of 20.97. Last week he clocked 20.86, which is the highest time in the state. In the 100 Invitational, Stanley and teammate Jordan Coleman were each clocked at 10.61 s.
Upland's Davis Davis-Lyrick won the 110 hurdles in 14.76. Sophomore Chase Hansen of Oaks Christian ran 48.59 to win the 400. Sophomore Adonis Curry of Quartz Hill won the seeded 100 in 10.87.
Meet records were set in several of the girls' races. Redmond, the defending state champion, ran the 100 in a meet-record 11.72 seconds. Curry's sister, Adonijah, was another standout. She set a meet record in the 200 at 24.58. Megan Humphreys of Caustic set the meet record in the long jump at 19-03. He also won 5-7 in the high jump.