MUMBAI: An investigation has found that heads of 11 departments of JJ Hospital's Grant Medical College (GMC) opened and operated unauthorized bank accounts in the names of the respective departments. The state medical education minister said that an amount of Rs 6 crore was collected in these accounts and almost half of it was used for expenses like foreign trips without permission. Girish Mahajan Also said that strict action will be taken against those found guilty within a month.
Mahajan was replying to questions raised in the state assembly on Friday. The case is of 2018 when an RTI activist, Mayur Salvisent a complaint to the state's medical education secretary, which led to an investigation in 2019.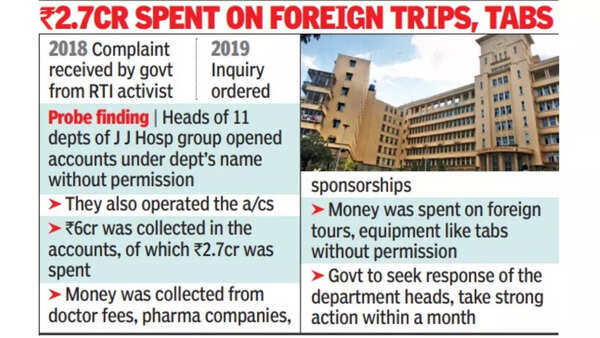 In your written reply, great man Said, "From the heads of 11 departments JJ Group Of Hospitals Answer has been sought. Further action will be taken after their reply."
He said that 32 departments of GMC were checked and unauthorized accounts were found in the name of 11 departments. "No permission was taken to open the account, which is not permitted. The department heads open and operate the accounts," he said.
He said that an amount of Rs 6 crore was collected in the accounts, out of which Rs 2.7 crore has been spent. "The money included doctor's fees, educational grants and sponsorships from private pharmaceutical companies," Mahajan said.
"The money was used to buy foreign trips and tabs. The purchase was done without permission or tendering, which is the rule," said Mahajan. He said that the remaining Rs 3.2 crore would be sent to the state treasury.
Shiv Sena raised the issue in the assemblyutb, MLA Sunil Prabhu, He alleged that departmental heads and other doctors opened unauthorized accounts in the name of the department and deposited the fee received from private practice along with the commission. "On August 13, 2021, the director of medical education had issued a circular stating that the inquiry should be done in 30 days. Why hasn't anything been done? Is the administration shielding the culprits," he asked.