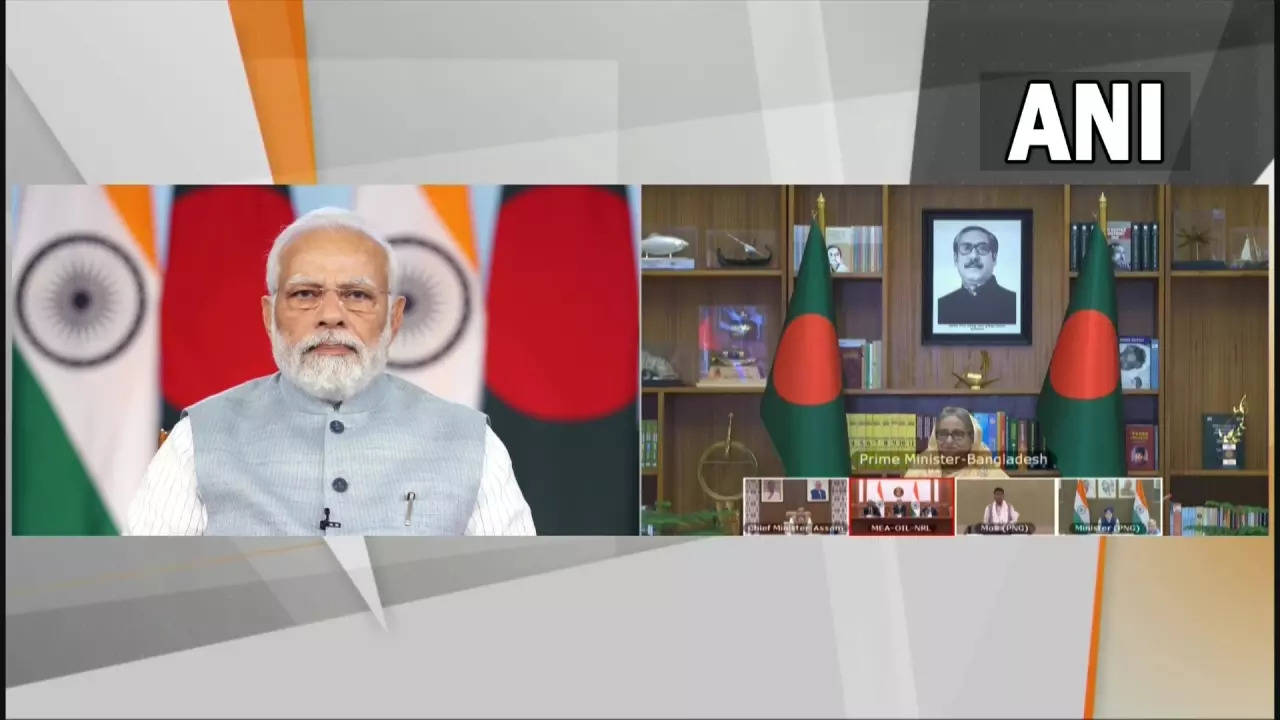 New Delhi: Prime Minister Narendra Modi and Bangladesh PM Sheikh Hasina jointly inaugurated the India-Bangladesh Friendship Pipeline on Saturday through video conferencing.
"In the last few years, Bangladesh has made remarkable progress. Every Indian is proud of that and we are glad that we have been able to contribute to this development journey of Bangladesh." PM Modi Said in his address in the virtual program.
"I am confident that this pipeline will further accelerate the development of Bangladesh and will be an excellent example of enhancing connectivity between the two countries," he said.
Both PMs attended phenomenal function for pipeline in september 2018.
The newly inaugurated pipeline extends 125 km into the territory of Bangladesh and 5 km inside India and is significant for the following reasons:
first cross border energy pipeline
This is the first cross-border energy pipeline between India and Bangladesh that Delhi will use. The pipeline has been built with about Rs 3.46 billion drawn from the Indian Line of Credit (LoC) to export diesel to Dhaka and Bangladesh Petroleum Corporation officials.

cost and efficiency
It has been built at an estimated cost of Rs 377 crore. The Bangladesh part of the pipeline has been built at a cost of about Rs 285 crore, which has been borne by the Government of India under grant-in-aid.
The pipeline has a capacity to transport 1 million metric tonnes per annum (MMTPA) of diesel, which will be initially supplied to seven districts of northern Bangladesh.
hope in times of crisis

Bangladesh is a major importer of the fuel needed for electricity.
High global prices forced Bangladesh to reduce its imports in 2022 despite an increase in demand for electricity. This resulted in fuel shortages that forced millions of citizens into darkness for hours every week through the second half of 2022.
economic benefits
Initially, Bangladesh will buy around 2.5 lakh tonnes of diesel. In subsequent years it was increased to 4 to 5 lakh tonnes.
It costs about US$8 to transport each barrel of fuel to and from the port city.
The pipeline will reduce the cost to about US$5 per barrel.
It will also reduce the transportation time to just one hour as against the present situation of transportation of diesel through wagons and trawlers from Chattogram and Mongla ports which takes several days.
FAST DELIVERY AT LOWEST COST
This pipeline will help in providing steady supply of diesel to all 16 northern districts under Rangpur and Rajshahi in Bangladesh.
This will ensure speedy delivery of fuel at minimum cost.