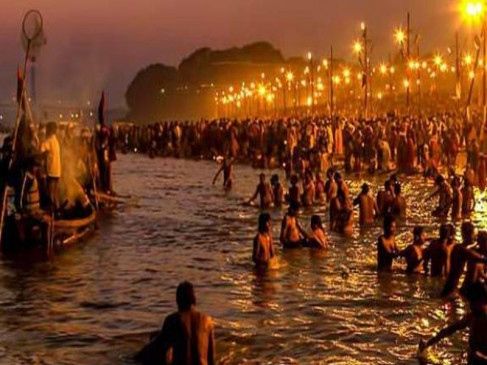 Digital New Delhi. Magha, the eleventh month of the Hindu calendar, is in its last phase. This month will end with the full moon, which is on Wednesday, February 16. Due to being in the Shukla Paksha of Magha month, the full moon date is also called Magha Purnima or Maghi Purnima. It is believed that by taking a bath at this memorial in the Sangam of Prayagraj, you get merit. The story of Satyanarayan is also the best on this special God.
Mother Lakshmi and Chandra Dev are also worshiped on the day of Magha Purnima. It is said that by worshiping the moon on this day, lunar defects are removed and by the grace of Goddess Lakshmi, one gets happiness, prosperity, wealth and wealth in life.
Sant Ravidas Jayanti 2022: The saint who shocked the society in unity formula had said this important thing
Auspicious beginning
Date Start: February 15, Wednesday night from 09:42
Date closing: 16 February, Thursday night till 01.25 minutes
Special yoga should be done on Magh Purnima
Please tell that this year special yoga is being made on Magh Purnima. Shobhan Yog is considered to be a good Yog which is till 08:44 in the night of Magha Purnima. Manglik and auspicious works can be done in this Yag.
Why is bathing and donation done
Vishnu worship, Ganga bath is considered to be of special importance in this month. In this month, Kalpavas are performed on the banks of Prayagraj. During which Ganga bath and devotional hymns are performed. By the grace of Lord Vishnu and Mother Ganga, all sins are destroyed, desires are checked and salvation is attained after death.
February 2022: date date date date, date date has been released
worship method
– On the day of Magh Purnima, wake up before sunrise and take a bath after retiring from the routine.
If possible, take a bath in a holy river, water tank, well or stepwell.
– Offer water to the Sun God and take a vow of fasting.
– On this day worship of Lord Vishnu, Shraddha of ancestors and charity should be given to the poor.
– In the afternoon poor people and Brahmins should be given food and charity.
– Sesame and black sesame should be specially donated in charity.