HYDERABAD: With the number of H3N2 cases rising across the state, doctors have suggested flu vaccine, especially for people in the high-risk category.
While large numbers of people have been exposed to swine flu before (during the pandemic caused by H1N1 in 2009), experts claim this would mean a basic level of herd immunity. "It will also provide some protection from new forms. Still, people should take quadriflu The vaccine is preventable with it, as is swine flu. The Quadriflu vaccine or quadrivalent influenza vaccine will protect people against most types of swine flu including H1N1, H2N2, British as well as other types. The vaccine is easily available in the market and costs around Rs 600." Dr K Shankar Said.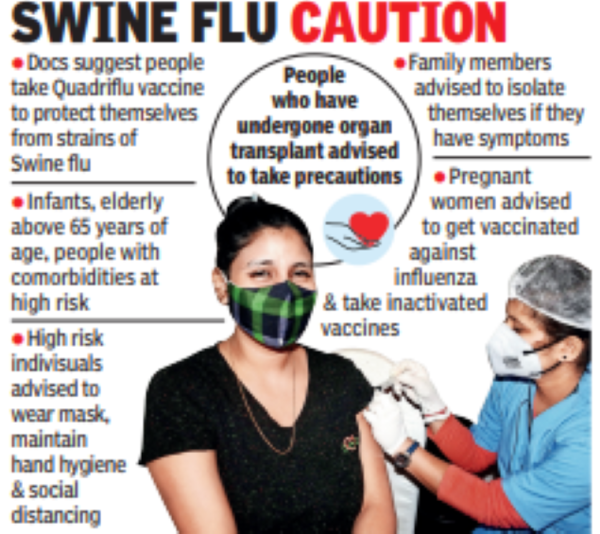 Getting a flu shot is recommended for everyone, including infants, the elderly over age 65, people with diabetes, high blood pressure, obesity, heart or kidney problems, and people with compromised immunity, such as people with HIV, hepatitis, high blood pressure, There is risk. These are the categories of people who must take the vaccine shot.
People who have had organ transplants also need to double protect themselves. "The most important thing for the high-risk category is to get vaccinated and prevent infection at all costs, as it can be risky if people in this group get infected. Wearing a mask, maintaining hand hygiene and social Maintaining distance is the key criteria for high-risk people. Also, family members need to isolate themselves if they have symptoms," said Dr MV Rao, a general practitioner.
Although H3N2 is not normally dangerous to a healthy person, getting the vaccine can stop its spread. "Pregnant women should be vaccinated against influenza (swine flu is a mutation influenza a) and receive inactivated vaccines. Both the trivalent and quadrivalent vaccines are considered safe," Dr. Kiran MadalaCritical Care Specialist and an ICMR-accredited researcher said.