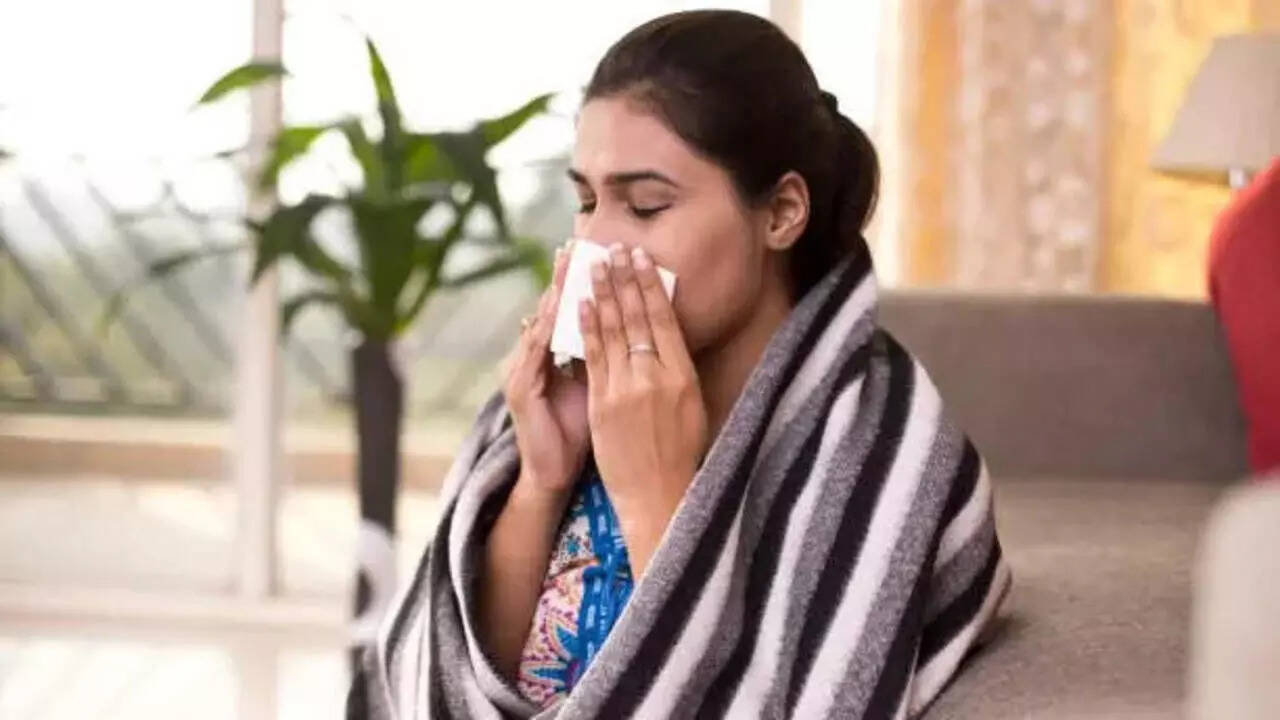 NEW DELHI: Hospitals across the country have been reporting thousands of cases over the past few months of Influenza A subtype H3N2, which causes fever for 3-5 days and persistent cough that can last up to three weeks.
The Indian Council of Medical Research (ICMR) notes that the particular strain causes more hospitalizations than any other flu subtype.
According to ICMR, in hospitalized patients H3N292% patients had fever, 86% cough, 27% breathlessness, 16% wheezing. Additionally, ICMR surveillance found that 16% of such patients had pneumonia and 6% had seizures.
ICMR said, "About 10% of patients suffering from severe acute respiratory infection due to H3N2 require oxygen, and 7% require ICU care."
Symptoms to watch for:
Fever
chills
cough
nausea
vomit
sore throat
muscle and body aches
Diarrhea
runny nose and sneezing
The apex health research agency has also suggested a list of do's and don'ts for people to protect themselves from the virus.
worth doing
wash hands regularly with water and soap
Wear face mask and avoid crowded places
avoid touching mouth and nose
Cover nose and mouth while coughing and sneezing
stay hydrated and drink plenty of fluids
For fever and body aches, take only prescribed medicines (such as paracetamol).
what not to do
shaking hands or using other contact-based greetings
spit in public
self medicating with antibiotics
Eating while sitting near others or in a crowd
IMA advises against indiscriminate use of antibiotics
Meanwhile, the Indian Medical Association (IMA) has advised against indiscriminate use of antibiotics amid rising cases of cough, cold and nausea across the country.
Fever cases are on the rise – avoid antibiotics https://t.co/WYvXX70iho

– Indian Medical Association (@IMAIndiaOrg) 1677855852000
The association asked doctors to prescribe only symptomatic treatment and not antibiotics.
"Right now, people start taking antibiotics like azithromycin and amoxiclav, regardless of dose and frequency, and stop once they feel better. This needs to be stopped as it leads to antibiotic resistance. "Whenever there is any actual use of antibiotics, they will not work because of resistance," the IMA said in a statement.
The most commonly abused antibiotics are amoxicillin, norfloxacin, oprofloxacin, ofloxacin, and levofloxacin.
Who is at risk?
The IMA's Standing Committee on Anti-Microbial Resistance said that air pollution has led to an increase in viral cases, adding that the disease occurs mostly in people under 15 years and above 50 years of age and upper respiratory symptoms with fever. causes infection.
With the rise in temperature from the end of March or the first week of April, there is a possibility of a decrease in cases of infection.
(with inputs from agencies)