A week after hitting the 500-mark, India's daily COVID-19 cases on Saturday crossed 1,000 for the first time in 130 days, as the number of cases, which had been rising for five weeks, accelerated further in the last seven days. Enhanced . While most of the new cases have been reported in west and south India, infections have started increasing in the north as well.
India reported 1,071 new cases on Saturday, the first time since November 9 last year that the daily count was above 1,000. Nearly 5,000 new cases have been reported in the last seven days (4,929 during March 12-18), up 85% from the previous seven-day total of 2,671. The country reported 19 Covid deaths during this period, six more than in the previous period.
Rise in cases among fastest
Gujarat
According to TOI's Covid database, the seven-day average of daily Covid cases in India has doubled in the past eight days, from 353 on March 10 to 704 on March 18. The doubling rate last week was close to 11 days, indicating that the infection has spread more rapidly in the current week.
As of Sunday, the number of active cases in the country had crossed 6,000, up from 3,778 last Sunday. The test positivity rate (TPR) – the percentage of test samples that are positive – was still low for the country as a whole, which indicates cases are yet to rise in many parts of India. the Daily TPR It crossed 1% on Saturday, although the seven-day average was around 0.8% but was rising slowly.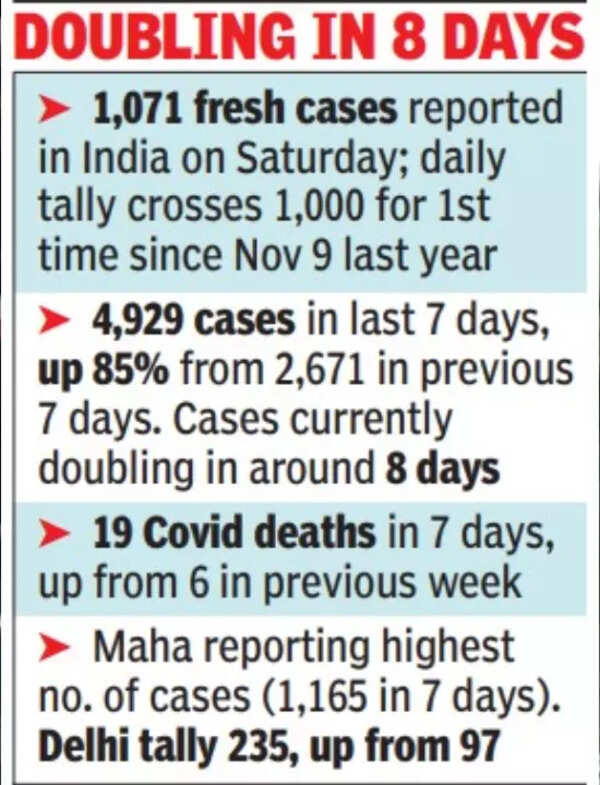 In the last seven days, Maharashtra displaced Karnataka as the state reported the highest number of fresh cases. Maharashtra reported 1,165 new infections during this period (March 12-18), which is 2.3 times more than the previous seven-day period. Kerala reported 739 cases, up from 520. The increase appeared to be slowing in Karnataka, with the state recording 656 cases, up from 584 in the past seven days.
The rise in numbers was sharpest in Gujarat, which recorded 660 cases in the seven-day period ending Saturday, a 3.5-fold increase over the previous seven days when the state had recorded 190 cases.
The numbers in the national capital also increased steadily. Delhi registered 235 new cases during this period, up from 97. On Sunday, 72 more new cases were added to Delhi's tally. Though the numbers were low, infections were on the rise in Rajasthan, Haryana, Uttar Pradesh, Punjab and Uttarakhand.
In the last seven days, 19 people have died.